---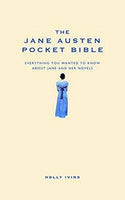 Have you ever dreamt of Darcy? Wished for Wentworth? Or even envied the womanly wiles of Emma? Perhaps you want to know a bit more about the author who so accurately describes the ins and outs of courtship, and whose novels have never been out of print since they were first published nearly 200 years ago? 

This handy little book guides you through Austen s beloved novels, explaining Regency manners, the class system, the importance of inheritance, and the delicate matter of landing a husband. Full of fascinating trivia about the world of Austen s novels this book also contains details of Austen s life, the writers who inspired her, the country estates which make up the settings for her romantic adventures, and details on the countless film and television adaptations which have been made.

With facts on genteel dancing, a plan for a Jane Austen dinner party and words of wisdom from the lady herself, it is a must-have for every self-confessed Jane fan or those making their first foray into Austen s carefully crafted world.
Hardback 2010 192 pages
Free UK Shipping 🚚