---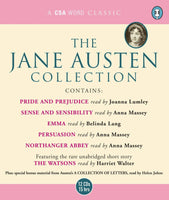 The Jane Austen Collection Audio CD
An audio CD of five of Jane Austen's novels:
Pride & Prejudice, Sense & Sensibility, Emma, Persuasion and Northanger Abbey, read by Joanna Lumley, Belinda Lang and Anna Massey. Includes a bonus reading of The Watsons by Harriet Walter and a collection of Jane's letters.
Contents: 12 CDs, 15 hours of story-telling.
Free UK Shipping 🚚