---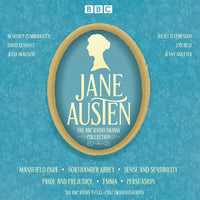 The Jane Austen BBC Radio Drama Collection Audio CD 
A collection of BBC radio full-cast dramatisations of Jane Austen's six major novels Jane Austen is one of the finest writers in the English language, and this volume includes all six of her classic novels.

Mansfield Park: On a quest to find a position in society, Fanny Price goes to live with her rich aunt and uncle.
Northanger Abbey: Young, naïve Catherine Morland receives an invitation to stay at the isolated Gothic mansion Northanger Abbey.
Sense and Sensibility: Forced to leave their family home after their father's death, Elinor and Marianne Dashwood try to forge a new life at Barton Cottage.
Pride and Prejudice: Mrs Bennet is determined to get her five daughters married well, so when the wealthy Mr Bingley and his friend Mr Darcy move into the neighbourhood her hopes are raised…
Emma: Emma Woodhouse declares she will never marry, but she is determined to find a match for her friend Harriet.
Persuasion: Eight years ago, Anne Elliot rejected a marriage proposal from a handsome but poor naval officer. Now her former love has returned…
With an all-star cast including David Tennant, Benedict Cumberbatch, Julia McKenzie, Jenny Agutter, Toby Jones, Eve Best and Juliet Stevenson, these BBC radio adaptations are full of humour, romance, love lost and love regained.
Free UK Shipping 🚚