---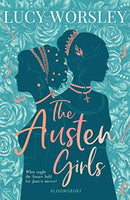 The Austen Girls by Lucy Worsley
"Aunt Jane said that Fanny must wear white. It's the colour for a heroine at her first ball,..."

Imagine being related to Jane Austen and living a life which closely mirrors her novels, this is what Lucy Worsley has created with her new novel about Jane's nieces, "The Austen Girls".
Anna Austen has always been told she must marry rich. Her future depends upon it. While her dear cousin Fanny has a little more choice, she too is under pressure to find a suitor. But how can either girl know what she wants? Is finding love even an option? The only person who seems to have answers is their Aunt Jane. She has never married. In fact, she's perfectly happy, so surely being single can't be such a bad thing? 

Paperback 2020

320 pages
Free UK Shipping 🚚