---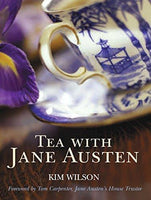 "We began our China Tea three days ago, & I find it very good." Letter to Cassandra, 1811
Jane Austen was very fond of drinking tea, her role at Chawton Cottage was to prepare the morning tea for breakfast. This beautifully illustrated book by Kim Wilson details the importance of tea drinking in Jane's time, its history and among the delicious tea-time recipes references the many times tea is mentioned in her novels. Who can't resist Breakfast with Mr. Darcy? 
This is the ideal book for any tea drinking Jane Austen fan.

Hardback book 128 pages.
Free UK Shipping 🚚