---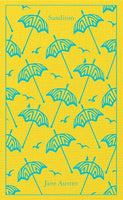 Sanditon - Penguin Clothbound Classics
"Sir Edward's great object in life was to be seductive. - With such personal advantages as he knew himself to possess, and such talents as he did also give himself credit for, he regarded it as his duty." Sanditon, 1817
This Penguin clothbound book provides the last unfinished novel by Jane Austen and earlier novels Lady Susan and The Watsons.
Sanditon tells the story of Charlotte Heywood, who is transported by a chance accident from her rural hometown to the coastal resort, where she is exposed to the intrigues and dalliances of a small town. Jane completed the first eleven chapters before her death in 1817.
Lady Susan, a short early novel by Jane Austen published after her death. This novel centers around the beautiful, coquettish, recently widowed Lady Susan who descends upon her brothers family and causes anxiety and upset with her controlling and flirtatious manner.
The Watsons, the story of Emma the youngest daughter of the family and her introduction to society, friendship and courtship and all the complications that it entails. An unfinished novel written by Jane Austen in 1803 investigating a young woman's journey from the periphery of accepted society to its inclusion.
Complete your Jane Austen collection with these three lesser-known works. There are many cover versions of Jane's novel but we feel sure that this version of her work will stand out on your bookcase and become a cherished part of your Jane Austen collection.
Clothbound Hardback 2019
240 pages