---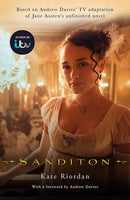 Sanditon: Official ITV Tie-In Edition
"If I understand you aright, our taste in novels is not at all the same.", Sanditon, 1817
A novelisation of ITV's period drama Sanditon, adapted from Jane Austen's unfinished novel, with a foreword by Andrew Davies.
When a chance accident transports Charlotte Heywood to the seaside town of Sanditon, her life changes forever. And when she meets the charming and slightly wild Sidney Parker, she finds herself caught up in a whirlwind of romance, betrayal and changing alliances - nobody in Sanditon is quite as they seem.
Discover the world Jane Austen left behind and meet the characters brought to the page by Kate Riordan. Every coastal town has its secrets - but Sanditon has more than most!
Paperback 2019
400 pages