---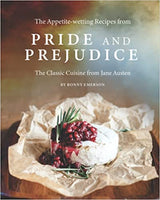 Recipes from Pride & Prejudice 
A recipe book to delight all Pride & Prejudice fans, with a good variety of regency recipes to follow you will be able to recreate breakfasts, lunches and dinner from Jane Austen's era. Try your hand at re-creating White Soup, Meat Tea, Maple Glazed Scones, Bath Roll and Spice Cake to name but a few!
The full title of this book is "The Appetite-wetting Recipes from Pride and Prejudice"
A lovely addition to your Jane Austen collection. Delicious!
Paperback 2021
81 pages
Free UK Shipping 🚚