---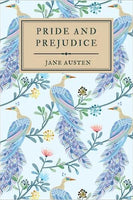 Pride and Prejudice Classic Novel by Jane Austen
"It is a truth universally acknowledged, that a single man in possession of a good fortune, must be in want of a wife." Pride & Prejudice 1813
'Pride and Prejudice' a novel by Jane Austen was an instant success when first published in 1813, it tells the story of Mr. And Mrs. Bennet's five unmarried daughters after the arrival of Mr. Bingley, an eligible bachelor, to their neighbourhood. As Bingley takes an immediate liking to their eldest daughter Jane, his friend Mr. Darcy finds it difficult to mix with the local society and to rectify his initial off-hand approach to Elizabeth Bennet the witty, lively and intelligent second eldest daughter.

The full original unabridged 1813 edition text.
This version of Jane Austen's brilliant novel is in a 6 x 9" format providing a larger than average size paperback and clear large font.
Paperback - 2022
Pages 296
Free UK Shipping 🚚