---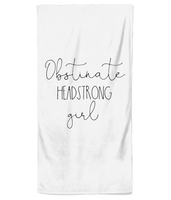 Jane Austen Obstinate Headstrong Girl Towel

"Obstinate, headstrong girl! I am ashamed of you! Is this your gratitude for my attentions to you last spring?" Pride & Prejudice, 1813
A new addition to our range of 'Obstinate, headstrong girl' products, a Jane Austen full size towel with the famous outburst by Lady Catherine de Burgh to Lizzie Bennet in Jane Austen's classic novel 'Pride & Prejudice'. 
This new design print towel is made from knitted cotton/polyester mix.  Machine washable.
A great gift for a 'Pride & Prejudice' fan who wants to keep up the tradition of always being obstinate and headstrong!

Dimensions : 70cm x 140cm, 350 gsm.

Free UK Shipping 🚚