---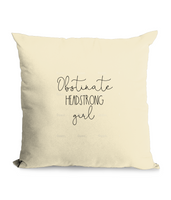 Jane Austen Obstinate Headstrong Girl Cushion 
Keep up the tradition of obstinate, headstrong girls with this Pride & Prejudice inspired cushion - quoting Lady Catherine De Bourgh's famous outburst to Lizzie Bennet :
"Obstinate, headstrong girl! I am ashamed of you! Is this your gratitude for my attentions to you last spring?" Pride & Prejudice, 1813
A square canvas cushion with the above quote from Jane Austen's novel of 1813. Settle back and relax while reading one of Jane's classic novels. A great addition to the home of every Jane Austen fan.
16" / 40cm square cushion cover made from 100% unbleached cotton canvas. Self colour concealed zip.
Choose from cushion with insert pad or cushion cover.
Made in England.
Free UK Shipping 🚚