---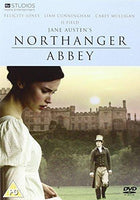 "And to marry for money I think the wickedest thing in existence." Catherine Morland, Northanger Abbey, 1818
The televised adaptation of Jane Austen's "Northanger Abbey", released in 2007 and starring Felicity Jones and JJ Feild as Henry Tilney. It tells the story of our heroine Catherine Morland and her introduction into society.
While staying in Bath she meets the Tilney family and accepts an invitation to stay with them at their estate, Northanger Abbey. An honest and unaffected young woman whose new surroundings and interest in Gothic literature make her imagination and curiosity heighten with the mystery of a past death at the Abbey.
An ITV Studio production, 93 minutes.
Free UK Shipping 🚚