---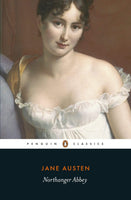 "And to marry for money I think the wickedest thing in existence." Northanger Abbey 1818

An early work by Jane Austen, although not published until after her death, Northanger Abbey tells the story of Catherine Morland a young impressionable 17 year old who is introduced to society by more wealthier relations. On a visit to Bath she is invited to spend some weeks with the Tilney family at Northanger Abbey where Catherine's new surroundings and interest in Gothic literature make her imagination and curiosity heighten with the mystery of a past death at the Abbey.
This is a Penguin Classic paperback 2003.
Free UK Shipping 🚚