---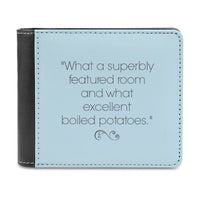 Mr. Collins Quote Wallet
"What a superbly featured room and what excellent boiled potatoes" Pride & Prejudice, 2005
If you love Jane Austen's comic character Mr. Collins from 'Pride & Prejudice' you will surely love this useful pretty blue wallet with the inimitable quote from Mr. Collins himself in the 2005 film adaptation. A witty wallet to keep your money and cards safe, an ideal gift for the friend who loves Mr. Collins' style!
Size : 11 x 9 cm
Made from PU leather with currency and 6 bank card compartments.
Please allow 20 days for delivery.
Free UK Shipping 🚚