---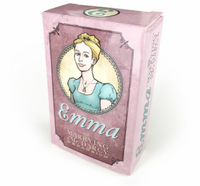 Marrying Mr. Darcy: Emma Expansion
"Oh! when a gallant young man, like Mr Frank Churchill,' said Mr Knightley dryly, 'writes to a fair lady like Miss Woodhouse, he will, of course, put forth his best.' Emma, 1816
Enjoy further match-making with Marrying Mr. Darcy: Emma Expansion, an add-on to the original Mr. Darcy game.
Marrying Mr. Darcy is a strategy card game where players are one of the female characters from Jane Austen's novel Pride and Prejudice. The Emma Expansion includes 6 new Heroine Cards, 5 new suitor cards, and 60 new event cards all inspired by Jane Austen's Emma. Just replace your Marrying Mr. Darcy Heroine, Suitor, and Event cards with the new Emma Expansion and you are all set to play! You'll enjoy new Emma appropriate activities such as blunders, interference, gossip, and revelations, all very Emma-esque! 
Play time up to an hour for 2 to 6 players.
Free UK Shipping 🚚