---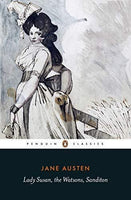 "But you know we must marry...but my father cannot provide for us, and it is very bad to grow old and be poor and laughed at." The Watsons, 1804
Sanditon :- Charlotte Heywood is invited to stay with the Parker family at their home in Sanditon, a small village on the south coast which Mr.Parker is busily trying to promote as a fashionable bathing resort. Her coming arouses no little interest among the residents and the nephew of the wealthy Lady Denham. Begun by Jane Austen in 1817 this is her final unfinished novel.
The Watsons :- The story of Emma the youngest daughter of the family and her introduction to society, friendship and courtship and all the complications that it entails. An unfinished novel written by Jane Austen in 1803 investigating a young woman's journey from the periphery of accepted society to its inclusion.
Lady Susan :- A short early novel by Jane Austen published after her death. This novel centres around the beautiful, coquettish, recently widowed Lady Susan who descends upon her brothers family and causes anxiety and upset with her controlling and flirtatious manner.
Complete your Jane Austen collection with these three lesser-known works.
This is a Penguin Classic paperback 1974.

Free UK Shipping 🚚