---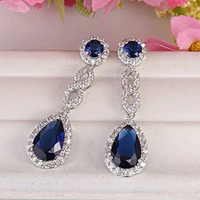 Lady Catherine de Bourgh Blue Crystal Earrings
"There are few people in England, I suppose, who have more true enjoyment of music than myself, or a better natural taste. If I had ever learnt, I should have been a great proficient." Pride & Prejudice, 1813
You really can't argue with Lady Catherine, a lady whose self-importance knows no bounds. Be stylish and bold just like her with this exquisite pair of deep blue and white crystal earrings. A very detailed regency style pair of dangle earrings in zinc alloy with hoop fastenings.
The perfect accessory to your evening gown for dining at Rosings Park.
Length 3 cm
Please allow 20 days for delivery.
Free UK Shipping 🚚