---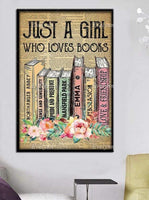 Just A Girl Who Loves Books Canvas Poster
"How pleasant it is to spend an evening in this way! I declare after all there is no enjoyment like reading!" Pride & Prejudice, 1813

A great Jane Austen themed canvas poster for all fans of her books. Jane Austen's seven famous novels set with floral detail against text from one of her novels.  A lovely addition to a Janeites collection. Poster is made from canvas and is unframed, available in a number of varying sizes.
The poster is unframed.
Please allow 20 days for delivery.
Free UK Shipping 🚚