---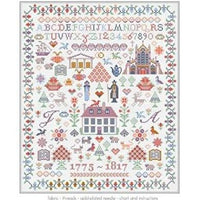 "Consider how many years I have had the start of you. I had entered on my studies at Oxford, while you were a good little girl working your sampler at home!" Northanger Abbey, 1818
Create your very own sampler designed to commemorate Jane Austen's personal and literary life. It incorporates Jane's dates, her Steventon family home, Bath Assembly Rooms and her final resting place Winchester Cathedral. Enjoy this regency past-time, a refined way to relax and prove yourself to be a very accomplished young lady!
PLEASE NOTE : This is a 14 count counted cross stitch pattern only.  You will need thread and DMC Aida 14 count canvas. Allowing you to create your own colour design. 
35 cm x 43 cm finished embroidery size.
Free UK Shipping 🚚