---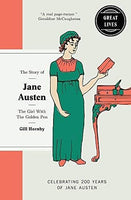 Jane Austen: The Girl with the Golden Pen 
"As a rule the family did not use its imagination much when it came to girls' names. They all tended to be Cassandra or Jane, with the occasional Philadelphia thrown in. So when, on 16th December, their seventh child was born, a Jane she became."
An introduction to the life and work of one of England's greatest writers, Jane Austen. Written for the younger reader this entertaining biography by Gill Hornby tells the story of Jane's life, from her birth at Steventon, her early years, busy family life and her quiet progression from youngest child to brilliant writer. Easy to read and hard to put down, a great introduction to Jane.
Written to celebrate 200 years of Jane Austen.
Hardback 2017
96 pages
 Free UK Shipping 🚚