---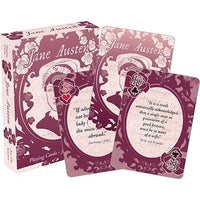 Jane Austen Playing Cards
Entertain your friends playing Regency card games such as Quadrille or Loo with these Jane Austen quote playing cards. A novelty gift for all Jane Austen fans.
"If adventures will not befall a young lady in her own village, she must seek them abroad." Northanger Abbey, 1818
Standard set of 52 playing cards plus jokers each card with different Jane Austen quote.

Free UK Shipping 🚚