---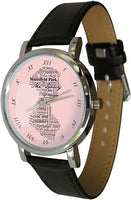 Jane Austen Pink Watch
A lovely Jane Austen watch pink face with Roman numerals and black leather strap, stainless steel case, displaying a word cloud silhouette of Jane, listing all her famous novels and characters. 
"I cannot fix on the hour, or the spot, or the look or the words, which laid the foundation. It is too long ago. I was in the middle before I knew that I had begun." Pride & Prejudice, 1813
32mm diameter
Quartz movement analog watch.
Water resistant - splash proof.
Free UK Shipping 🚚