---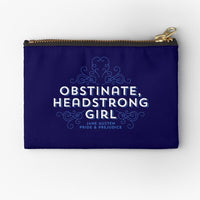 Jane Austen Obstinate Headstrong Girl Makeup Bag
"Obstinate, headstrong girl!" Pride & Prejudice, 1813
A new line to our Obstinate Headstrong Girl range, a really gorgeous make-up bag in midnight blue dedicated to Obstinate Headstrong Girls everywhere! Made from natural canvas with gold zip fastening.
A great gift for a 'Pride & Prejudice' fan who wants to keep up the tradition of always being obstinate and headstrong!
Size : 13.5 x 11cm 
Please allow 20 days for delivery.
Free UK Shipping 🚚