---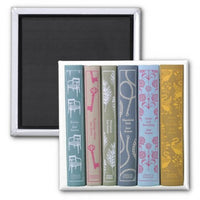 Jane Austen Complete Works Fridge Magnet
A Jane Austen fridge magnet covered with the colourful book spines of all her famous novels, handy to keep your lists, messages and reminders in order.  Ideal for all Jane Austen fans.
"How much sooner one tires of any thing than of a book!"  Pride & Prejudice, 1813
Size : magnet 5.1 cm wide.
Please allow 5 days to ship.
Free UK Shipping 🚚