---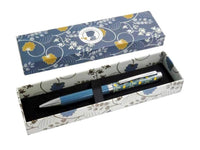 Inspire Collection - Jane Austen Decorative Blue Pen
"Let other pens dwell on guilt and misery. I quit such odious subjects as soon as I can, impatient to restore everybody, not greatly in fault themselves, to tolerable comfort, and to have done with all the rest." Mansfield Park, 1814

A beautifully decorative gift boxed pen featuring a design relating to Jane Austen. Inspired by an oak leaf motif from a pelisse (cloak) coat thought to have belonged to Jane. A heavyweight pen, with black ink, takes standard refills.
Size of pen 14 x 1.3 cm. Box size 17.7 x 5.2 x 2.4 cm.
Makes a lovely gift for a Jane Austen fan or to spoil yourself with.
Part of our Jane Austen "Inspire Collection".
Free UK Shipping 🚚