---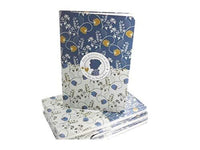 Jane Austen Decorative Notebook
"An occasional memento of past folly, however painful, might not be without use." Northanger Abbey, 1818
Keep all your notes and lists organised with this A5 lined hardback notebook in Jane Austen blue with delicate oak leaf and floral design. We also stock a matching pen, pair together for a lovely gift.
Part of our Jane Austen "Inspire Collection"
Size: 21 x 14 x  1.5cm Lined.
Free UK Shipping 🚚