---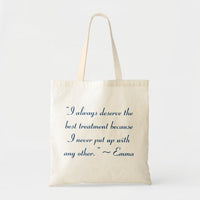 Jane Austen Emma Quote Tote Bag

"I always deserve the best treatment because I never put up with any other" Emma, 1815

A cream fabric tote bag with the above quote from Jane Austen's novel of 1815, 'Emma'. Made from natural canvas cloth with side and base support, reinforced fabric handle, this bag is made to be versatile, trendy and durable. Ideal for shopping, picnics and the beach. A great gift for a Jane Austen fan who always deserves the best treatment!

Dimensions : 16" x 15" x 6" with a 22" reinforced fabric handle.
100% cotton. Machine washable.
Free UK Shipping 🚚