---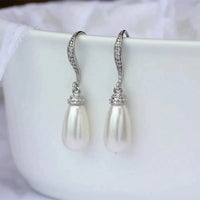 Elinor Dashwood Waterdrop Pearl Earrings
A beautiful pair of waterdrop pearl earrings providing a classic, refined look so named for Jane Austen's reserved heroine Elinor Dashwood. Relive the Regency era of Balls and Assemblies with these Regency style pearl earrings. A pair of simulated pearl earrings with zinc alloy fastenings.
"Sometimes one is guided by what they say of themselves, and very frequently by what other people say of them, without giving oneself time to deliberate and judge." Sense & Sensibility, 1811
Please allow 20 days for delivery.
Free UK Shipping 🚚