---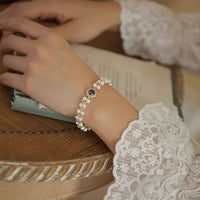 Caroline Bingley Pearl & Gold Bracelet
This beautiful bracelet would be the ideal adornment for Caroline Bingley while mistress of Netherfield Hall, as she tries to catch the eye of a certain Mr. Darcy! Relive the Regency era with this elegant double strand imitation pearl and gold link bracelet, with deep blue crystal detail.

"I declare after all there is no enjoyment like reading! How much sooner one tires of any thing than of a book!" Pride & Prejudice, 1813
Please allow 20 days for delivery.

Free UK Shipping 🚚