---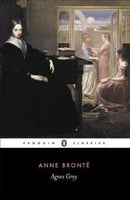 Agnes Grey by Anne Brontë
Written after her own unhappy experience as a governess this is Anne Brontë's first novel, it tells the story of Agnes Grey, who due to family hardship is determined to contribute to their small income by taking a position as governess to a number of wealthy families. Treated with disdain by such families she remains kind and charitable which earns her the amiable attention of the young curate. This novel portrays the very difficult circumstances for unmarried, educated women in Victorian society when required to gain employment.

"He had not breathed a word of love, or dropped one hint of tenderness or affection, and yet I had been supremely happy. To be near him, to hear him talk as he did talk, and to feel that he thought me worthy to be so spoken to - capable of understanding and duly appreciating such discourse - was enough." Agnes Grey, 1847
This is a Penguin Classic paperback 1998.
288 pages.
Free UK Shipping 🚚