---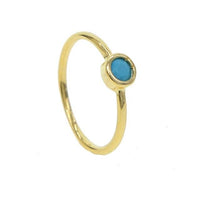 Jane Austen Replica Turquoise Ring
A simple gold and turquoise ring inspired by the only ring associated with Jane Austen.
The Jane Austen turquoise ring was passed down through her family and is now classed as a National Treasure. Turquoise is the stone traditionally given to those born in December – Jane was born on the 16th of December in 1775.

This ring is a small and modern design in gold metal with bezel setting turquoise coloured stone, to reflect Jane Austen's original ring. A special addition to the jewellery collection of all Jane Austen's fans.
Metals Type: Brass
Please allow 20 days for delivery.

Free UK Shipping 🚚