---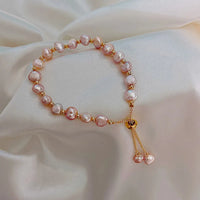 Georgiana Darcy Pink Pearl Bracelet
A pretty pink pearl bracelet perfectly chosen for Mr. Darcy's younger sister Miss. Georgiana. A simple but elegant bracelet made from faux pink pearls and golden adjustable links, ideal for you to wear when you next dine at Pemberley!

"I really do not think Georgiana Darcy has her equal for beauty, elegance, and accomplishments; and the affection she inspires in Louisa and myself is heightened into something still more interesting, from the hope we dare entertain of her being hereafter our sister." Pride & Prejudice, 1813
Please allow 20 days for delivery.

Free UK Shipping 🚚