---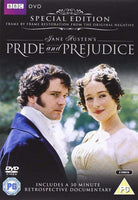 Pride and Prejudice - Special Edition DVD
"My Dear, Mr. Bennet. Wonderful news! Netherfield Park is let at last."
Jane Austen's famous novel "Pride & Prejudice" brought to the screen in Andrew Davies' adaptation. Yes - this is the one with Colin Firth!
This is the story of Elizabeth Bennet the second daughter of the Bennet family who, being a determined, obstinate young woman will have nothing to do with the handsome and very proud Mr. Darcy after being slighted by him at a dance. The romance seems a very unlikely one and we are treated to a sometimes tense and often times humorous tale as the two protagonists finally realise their true feelings for each other
These six hour episodes will fly by with the brilliant acting and gorgeous scenery. Jennifer Ehle portrays Elizabeth Bennet with a great sense of mischief and defiance, and Colin Firth will have women everywhere longing for a Mr. Darcy of their own.
 This special edition was released in 2009